This is something we all really need to practise MUCH more.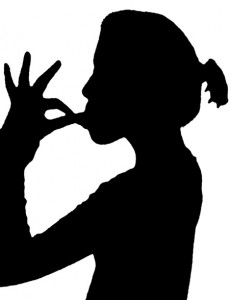 Hold Your Tongue!!
A nice article from
Lina Abujamra
at
TrueWoman
1. When you have no idea what to say
Proverbs 17:28: "Even a fool who keeps silent is considered wise; when he closes his lips, he is deemed intelligent."

2. When you're wrongly accused
1 Peter 2:23: "When he was reviled, he did not revile in return."

Isaiah 53:7: "He was oppressed, and he was afflicted, yet he opened not his mouth."

3. When you're mad
Proverbs 25:28: "Like a city whose walls are broken through is a person who lacks self-control."

4. When you're confused about life
Lamentations 3:25–28: "The Lord is good for those who wait for him, to the soul who seeks him. It is good that one should wait quietly for the salvation of the Lord . . . Let him sit alone in silence when it is laid on him; let him put his mouth to the dust—there may yet be hope."

5. When you wouldn't want someone else to find out you said it
Luke 12:3: "Therefore whatever you have said in the dark shall be heard in the light, and what you have whispered in private rooms shall be proclaimed on the housetops."

6. When you don't really mean it
Proverbs 3:28: "Do not say to your neighbor 'Go, and come again, tomorrow I will give it,' when you have it with you."

7. When you can't stop yearning for the good old days
Ecclesiastes 7:10: "Say not, why were the former days better than these? For it is not from wisdom that you ask this."

8. When you have a lot to do and you don't like it
Philippians 2:14: "Do all things without grumbling or complaining."

9. When the timing is wrong
Proverbs 25:11: "A word fitly spoken is like apples of gold in setting of silver."

10. When you don't have anything to say that gives grace

Ephesians 4:29: "Let no corrupt talk come out of your mouths, but only such as is good for building up, as fits the occasion, that it may give grace to those who hear it."
(HT:
Z
)
I think a lot of this is true for online 'talk' as well. It is so easy to write stuff on Facebook and blogs when it would be far wiser to hold our tongue and just not say anything at all.
Possibly Related Posts from the Past
1.
New Comment Policy